For Tax Professionals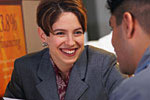 Seasonal Help for Your Tax Practice
An article written by Charles E. McCabe, CEO, Peoples Income Tax, and The Income Tax School, Richmond, VA.
Tax Industry Talk - Off site link
The National Forum (blog) to discuss topics pertaining to the Tax Preparation Industry, by Chuck McCabe and the Income Tax School. Strictly for Tax Pros with discussions of "tax business concerns."
Job Board for Tax Professionals
Search our Job Board, which has listings for Tax Professionals from all over the country.
Tax Law Legislation
H.R. 2: Jobs and Growth Tax Relief Reconciliation Act of 2003
H.R. 3090: Job Creation and Worker Assistance Act of 2002
H.R. 1836: The Economic Growth & Tax Relief Reconciliation Act of 2001
Summary of the Financial Freedom Act of 1999
Summary of the IRS Restructuring and Reform Act of 1998
Summary of the Taxpayers Relief Act of 1997
Valuable Information for Dealing With the IRS
Tax-Hints for 2007 Tax Season
IRS Manual & Internal Documents
Actions on Decisions
Chief Counsel's Notices
Chief Counsel's Written Determinations - Private Letter Rulings
Technical Advice Memorandums - Chief Counsel Advice
Field Service Advice
Dept. of Justice Criminal Tax Manual
Chief Counsel Bulletins
Market Segment Specialization Program Guides
U.S. Tax Treaties