Search Our Site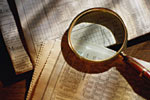 We have worked hard to maximize the effectiveness of our search engine. If you are used to using the larger commercial search engines, you know how frustrating it can be to wade through thousands of search results. With the options presented here, you should obtain more precise search results than you've ever experienced before:
Our search engine not only searches for words and phrases inside HTML files, but will also search for words and phrases inside PDF files.

It is also possible to conduct more focused searches on smaller areas of our site. For instance, you can limit your search to any particular area, such as IRS Tax Forms, IRS News Releases, or IRS Bulletins separately. Click on the box below that reads "All of UncleFed's Tax*Board" to view all of your options.

If you only want to search for an IRS tax form, instructions, or publication, there is a specialized search box below which will give you search results only pertaining to those forms, instructions, or publications. This will help you since you won't be getting search results that only has references to those forms or instructions.

Explore the Advanced Search capability which gives you numerous other options.
TIP: For more precise searching, put quotes around your search words. For instance, if you are looking for Pub 17, then you would type in "Pub. 17".
Click here for help on searching. Before clicking the search box, review all your options first.
Search for Words or Strings of Words:

Use this Search box to search for words, phrases, or strings of words in either the entire site, or in parts of the site, which we call collections. See the drop down box for collections that you can search. For a more focused search, put your search words in quotes.


In:
Match:
Any word All words Exact phrase
Sound-alike matching
Within:
Show:
results summaries
Sort by:
Search for Forms & Instructions Only:
Use this Search box to find an IRS Form or Instructions by inputting the number of the form.
---
Special Considerations for Searching PDF Files
PDF page linking: Typically, a search engine that has the capability to search PDF files will only take you to the first page of that file. Our search engine will take you to the first page in the PDF file where your search word appears. This will launch the Adobe Acrobat viewer so you can view that page. To search further within that PDF file for the same search word, you need to use the Acrobat search feature, which is identified as a set of binoculars on the Acrobat toolbar.