Tax Help Archives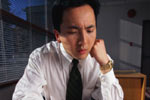 This section is designed to help you prepare a delinquent income tax return. Remember that there is a statute of limitations that applies to income tax refunds. If you file your tax return late and the return shows a refund, the statute of limitations for a refund is three years from the due date of the return. If you send in the return past the third anniversary date, the IRS will keep your refund.
If you owe tax, you will be subject to several penalties on the balance due amount. The failure to file penalty is 5% a month up to a maximum of 25%. The failure-to-pay penalty is one-half of 1% a month, up to 25%. You will also be charged interest on the unpaid balance at the prevailing rate, plus you may be subject to a penalty for not paying sufficient self-employment taxes.
There are several other penalties that may also apply.
2007 Tax Year
Instructions for Form 1040 - Includes Tax Tables & Schedules
IRS Publication 17 - Your Federal Income Tax
IRS Publication 553 - Highlights of 2007 Tax Changes
Tax Tips for 2007 Tax Year
Earned Income Tax Credit for 2006 - Pub. 596
2006 Instructions for IRS Forms in PDF Formats
2006 IRS Publications in PDF Formats
2006 Tax Year
Instructions for Form 1040 - Includes Tax Tables & Schedules
IRS Publication 17 - Your Federal Income Tax
IRS Publication 553 - Highlights of 2006 Tax Changes
Tax Tips for 2006 Tax Year
Earned Income Tax Credit for 2006 - Pub. 596
2006 Instructions for IRS Forms in HTML & PDF Formats
2006 IRS Publications in HTML & PDF Formats
2005 Tax Year
Instructions for Form 1040 - Includes Tax Tables & Schedules
Frequently Asked Questions & Tele-Tax Topics
IRS Publication 17 - Your Federal Income Tax
IRS Publication 553 - Highlights of 2005 Tax Changes
Tax Tips for 2005 Tax Year
Earned Income Tax Credit for 2005
Instructions for IRS Forms in HTML Format
IRS Publications in HTML Format
2004 Tax Year
Instructions for Form 1040 - Includes Tax Tables & Schedules
Frequently Asked Questions & Tele-Tax Topics
IRS Publication 17 - Your Federal Income Tax
IRS Publication 553 - Highlights of 2004 Tax Changes
Tax Tips for 2004 Tax Year
Earned Income Tax Credit for 2004
Instructions for IRS Forms in HTML Format
IRS Publications in HTML Format
2003 Tax Year
Instructions for Form 1040 - Includes Tax Tables & Schedules
Frequently Asked Questions & Tele-Tax Topics
IRS Publication 17 - Your Federal Income Tax
IRS Publication 553 - Highlights of 2003 Tax Changes
Tax Tips for 2003 Tax Year
Earned Income Tax Credit for 2003
Instructions for IRS Forms in HTML Format
IRS Publications in HTML Format
2002 Tax Year
Instructions for Form 1040 - Includes Tax Tables & Schedules
Frequently Asked Questions & Tele-Tax Topics
IRS Publication 17 - Your Federal Income Tax
IRS Publication 553 - Highlights of 2002 Tax Changes
Tax Tips for 2002 Tax Year
Earned Income Tax Credit for 2002
Instructions for IRS Forms in HTML Format
IRS Publications in HTML Format
2001 Tax Year
Instructions for Form 1040 - Includes Tax Tables & Schedules
Frequently Asked Questions & Tele-Tax Topics
IRS Publication 17 - Your Federal Income Tax
IRS Publication 553 - Highlights of 2001 Tax Changes
Tax Tips for 2001 Tax Year
Earned Income Tax Credit for 2001
Instructions for IRS Forms in HTML Format
IRS Publications in HTML Format
2000 Tax Year
Instructions for Form 1040 - Includes Tax Tables & Schedules
Frequently Asked Questions & Tele-Tax Topics
IRS Publication 17 - Your Federal Income Tax
IRS Publication 553 - Highlights of 2000 Tax Changes
Tax Tips for 2000 Tax Year
Earned Income Tax Credit for 2000
IRS Publications in HTML Format
1999 Tax Year
Instructions for Form 1040 - Includes Tax Tables & Schedules
Frequently Asked Questions & Tele-Tax Topics
IRS Publication 17 - Your Federal Income Tax
IRS Publication 553 - Highlights of 1999 Tax Changes
Articles of General Tax Filing Information
Earned Income Tax Credit for 1999
Instructions for IRS Forms in HTML Format
IRS Publications in HTML Format
1998 Tax Year
Frequently Asked Questions & Tele-Tax Topics
IRS Publication 17 - Your Federal Income Tax
IRS Publication 553 - Highlights of 1998 Tax Changes
Articles of General Tax Filing Information
1997 Tax Year
Frequently Asked Questions & Tele-Tax Topics
1996 Tax Year
Frequently Asked Questions & Tele-Tax Topics
Tax Law Legislation
Highlights of the Job Creation and Worker Assistance Act of 2002
The Economic Growth & Tax Relief Reconciliation Act of 2001
Summary of the Financial Freedom Act of 1999
Summary of the IRS Restructuring and Reform Act of 1998
Summary of the Taxpayers Relief Act of 1997