IRS Tax Forms, Instructions, &amp Publications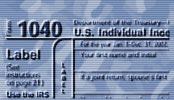 All IRS tax forms, instructions, and publications are in the Adobe Acrobat PDF format. All IRS forms, with the exception of the "Information Returns" such as W-2s, and 1099's, are now fill-in capable. The IRS recommends that you use the latest version of Adobe Acrobat Reader to view or print these forms.
Our powerful search engine has the capability to search text inside all PDF and HTML files. You can use the search buttons below to either search for a specific 2018 or 2019 tax form, instructions, or publication, or search for specific text. In order not to overwhelm you with search results, the search engine does not search PDFs for prior tax years.

Search for Forms & Instructions Only:
Use this Search box to find 2009 IRS Forms or Instructions by inputting the number of the form.
Search for Text:
Use this Search box to either search for text or phrases in all 2009 & 2010 Tax Forms, Instructions, and Publications, or in the entire site. For a more focused search, put your search words in quotes:

to download the Adobe Acrobat PDF Reader