IRS Sets New Tax Filing Season Records
WASHINGTON - The Internal Revenue Service announced that its recently completed tax season was a solid success, with new records being set in several key areas, including e-filing, home computer use, web usage and refunds.
The IRS saw significant jumps involving e-filing and its Web site at www.IRS.gov. E-filing topped 51 million for the first time. Home computer e-filing surged nearly 27 percent with the help of the new Free File program. IRS.gov usage was up 25 percent, with more than 13.6 million requests going to the new "Where´s My Refund?" feature.
"By any measure, the IRS enjoyed a strong filing season," said acting IRS Commissioner Bob Wenzel. "More taxpayers took advantage of e-filing and IRS.gov.
Returns were processed efficiently, and refunds went out timely. Our employees worked hard to deliver a terrific filing season."
Among this year's filing season records:
Electronic filing

. As of April 25, nearly 51.7 million taxpayers had e-filed, breaking 2002's grand total of 46.9 million. With e-filing remaining available until October 15, the number of electronic returns will continue to grow.

Home computer e-filing

. People filed nearly 11.7 million returns from their home computers, a 24 percent increase over the total for all of last year. More than 2.7 million of these used the Free File programs offered through the IRS Web site by a consortium of private sector firms.

Refunds

. The IRS had processed more than 83 million refunds as of April 25, worth nearly $164 billion – a record average of $1,973.

Direct deposit

. More than 41.6 million taxpayers have already used direct deposit for their refunds, surpassing the almost 40 million for all of 2002.

Electronic payments

. There were nearly 887,000 e-payments, a rise of 40 percent over the same time last year. This includes about 180,000 more electronic funds withdrawals and nearly 75,000 more credit card charges.

Web activity

. The IRS site at www.irs.gov remains one of the most used sites during the tax season, with 2.46 billion hits, a 25 percent increase from last year. The 89 million hits on April 15 set a new daily record for the site, surpassing last year's deadline day total of 78 million. A new feature – "Where's My Refund?" – gives taxpayers immediate feedback on the status of their refund. It continues to be available for those still awaiting their refunds.

Tax processing

. Workers at IRS Centers had processed more than 95.6 million returns as of April 25, the earliest that this volume has been reached.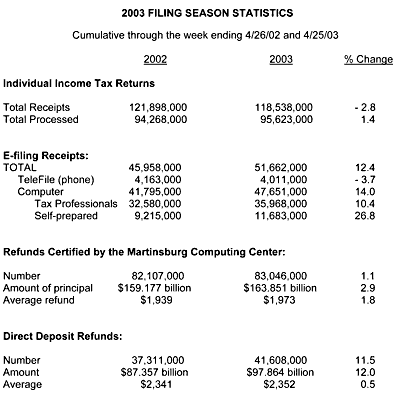 2003 IRS News Releases | News Releases Main | Home